Alfalit brings literacy, a fundamental right of every human being, to the Dominican Republic.
Milagros Saturria Calzado De Bello
Main Office: Desiderio Arias # 24 Altos Bella Vista Santo Domingo, Rep. Dominicana
Total Students enrolled in Dominican Republic - 2022
Total Students in
Latin - America
Alfalit operative programs
An opportunity to pursue your dreams and project businesses that you thought impossible before
"I had to enroll in the programs so I can learn how to read and write and be someone one day. I want to change my life to create better opportunities and to grow and become a successful woman.
Yinanllely Medina Gonzales
Santo Domingo, Dominican Republic
"I have prayed for an opportunity like this, and thanks to God, and Alfalit Dominican Republic, now it is possible. I am applying everything my teachers are teaching me and my desire to improve myself motivates me to study hard. "Alfalit's literacy program has helped Yinanllely in many aspects of her life. Her family has a small business selling ice cream and since she didn't know basic mathematics, customers took advantage of her and deceived her when exchanging money. Many times, there wasn't any profits from her sales to cover the family's expenses. Now, she can write down the calculations and she knows precisely what amount of money is due back to her customers when they buy ice cream. No one can ever deceive her again. She says, as a result, she is more and more motivated to continue her education. Yinanllely's dream is to attend the university. She believes that God has a very special plan for her life so she can give back to others for all that God has done for her."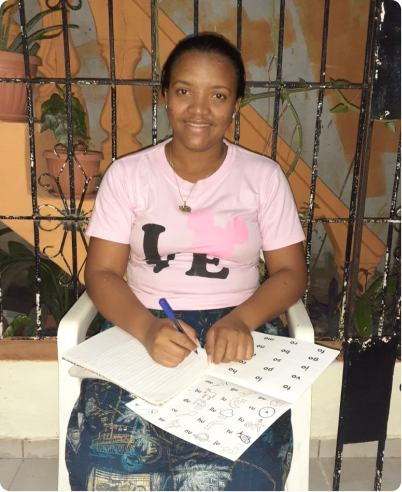 You can help people like Yinanllely and their families around the world.
Click here
to be the change our world needs.