Alfalit brings literacy, a fundamental right of every human being, to Guinéa-Bissau.
Pastor João Jorge Sanhá, "Nenê"
Main Office:
Cuntum-Quelele Bissau
Rep. da Guinea-Bissau
Total Students enrolled in Guinea - Bissau - 2022
Alfalit operative programs
We are the new reality for those who believe in a better future
She had never studied before, and her first contact with a school was through Alfalit. She completed the literacy program with a 3rd grade level.
Fatinha Gomes Fiare
30 years, Catum, Catió, Tombali
Fatinha Gomes Fiare was born with physical disabilities. She has many siblings, but she does not live with any of them because of her health condition… she lives in Quebo, where she had the opportunity to attend the literacy program provided by Alfalit Guinea-Bissau. After her father's death, her mother asked her uncle to help care for her.… She wants to continue studying because Alfalit has sparked her desire and dream of one day attending university. However, she understands that she does not have the financial and social conditions to do so. There is no school nearby with a program for continuing education… Fathinha has a very complicated economic situation… She runs a business selling beads, but it does not generate enough income for the family's basic needs. She is asking Alfalit to help her start a business that can provide her with a living.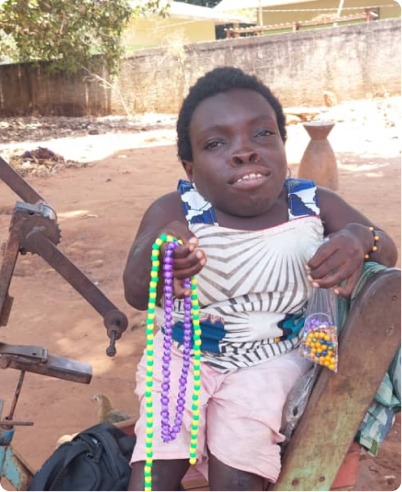 You can help people like Marcelina João and their families around the world. Click here to be the change our world needs.